GROWING TOGETHER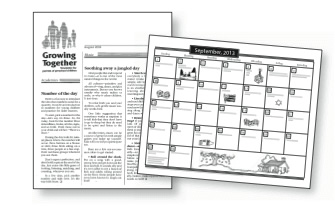 A four-page newsletter with an activity calendar. Add your organization's name, reproduce and make available monthly to your client parents.
SEND A PROFESSIONAL NEWSLETTER FOR $2.50 A MONTH
Growing Together is a monthly newsletter. Add your name, reproduce it as your own and send it home with the children ... or clip specific articles for your newsletter.
Authoritative, interesting articles help build a bond with parents. The Growing Together staff searches out new research articles and information about young children, digests it and presents it in simple, easy-to-read articles that help parents feel better about their situations – and feel better about what you are doing on their behalf.
SEE HOW TO USE GROWING TOGETHER
---
Free Shipping within the United States. For shipments to Canada, please call our toll free number +1(800)927-7289 or email: service@GrowingChild.com for shipping cost information and to place your order. The newsletter delivered by US postal service is not available for delivery outside of the US and Canada. Please consider an email subscription for international delivery.