A SPECIAL OFFER FOR FRIENDS AND FAMILY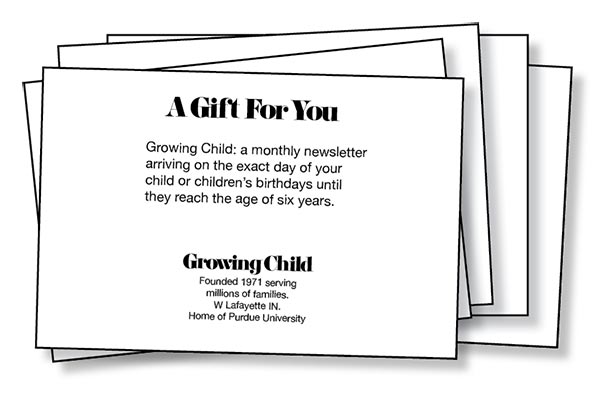 5 Email Subscriptions For $50
This new offer saves you nearly $75 off our best-selling product!
Purchase 5 or more Email subscription gift cards at the same time and pay only $10 for each one. Spread the word among your friends, family, neighbors and co-workers.
Protecting, shaping and guiding little humans can be an overwhelming responsibility. Growing Child can help. Every month, Growing Child provides insight into a child's development and helps a parent understand and guide their child though each stage.
Home based childcare can purchase subscriptions for each family they care for. A small business can purchase a gift for each employee. Any organization can provide a subscription for each member's family. Keep gift cards on hand to share with any parent. It is a perfect extra gift to present at a baby shower.
As long as at least 5 gift cards are ordered at one time, the cost is only $10 for each subscription.
There is never a renewal fee. The email subscription gift card purchase cost of $10 covers each and every child in the same household until the youngest child graduates high school.
WHAT IS INCLUDED IN AN EMAIL SUBSCRIPTION EACH MONTH?
Growing Child: A Monthly child development e-newsletter timed to the monthly age of the child from birth to six years old. Check points for development.
Growing Parent: A monthly e-newsletter that helps parents grow as adults. It is important that parent advance their personal development to help enrich the lives of their children and themselves.
Grandma Says: A twice-a-month e-newsletter written for parents by a wise grandmother, professional educator and author.
Growing Up: Sent monthly during the school year, an e-newsletter with a series of short, easy-to- read articles timed to the grade level for parents of children in kindergarten through graduation.
HERE'S HOW TO SUBSCRIBE NOW.
Purchase at least 5 email subscription gift cards and we will mail you cards with prepaid postage. Complete the section for the gift-giver so everyone knows who the gift is from and then share your gift. The recipient will then complete their part of the card and mail it back to us. We'll take it from there and set up the subscriptions.
---
Email subscriptions may be sent to any valid email address with no shipping charges.